Flipside Wallet Attachments: Which One is Right For Me?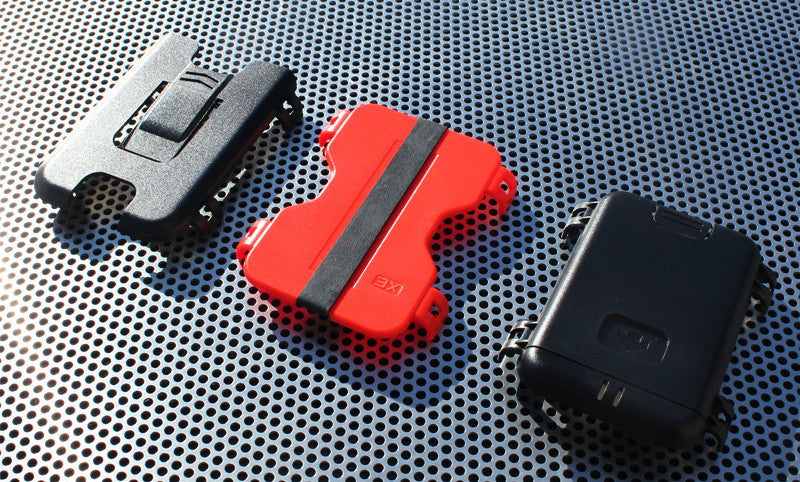 If there is one thing Flipside® Wallet users enjoy, it's flexibility. Ever since the Flipside® 2X model, we have offered additional ways to increase a wallets capacity for future needs, and accommodate the diverse 'pocket demands' of our customers. While it can be said that no single wallet is perfect for everyone, a Flipside® certainly comes close, with its ability to adapt to changing needs through its wonderful and diverse attachments. So we would like to take this opportunity to highlight some of the benefits of each of our attachments, in light of some recent customer feedback. NOTE: ALL ATTACHMENTS WE SELL ARE ONLY COMPATIBLE WITH THE FLIPSIDE® 3X WALLET.
ALL PURPOSE CLIP (included with each Flipside® 3X Wallet)
COMPATIBLE WITH: Flipside® 3X Wallet only
COST: FREE
The All Purpose Clip (or APC for short) is included with every Flipside® 3X Wallet, and also comes in the same color as the wallet it's included with. It firmly attaches to the back of every 3X wallet with its 4 arm system, and is easily detached if you do not need it. We designed the APC to be a versatile attachment that could accommodate a lot of different additional items to your wallet. It is capable of securely holding 2-3 additional credit sized cards, 4 business cards, up to 10 additional bills, receipts, tickets or a combination of everything. The All Purpose Clip has an extremely durable, weather and heat resistant monomer rubber strap wrapped around its center that grips and holds everything under it tightly and securely. When empty, the clip only adds 3/32″ of thickness to the back of the Flipside® 3X Wallet.
It is a perfectly capable and handy clip for many different uses, and one you can't go wrong with in most situations. In the rare event that your rubber strap breaks, we sell a 2 pack of replacement straps on our website for $4.95 as well.
FLIPSIDEKICK™ ATTACHMENT
COMPATIBLE WITH: Flipside® 3X Wallet only
COST: $9.95
If you are a Flipside® user who must carry and protect business cards, chances are you carry a FlipsideKick™ on the back of your 3X wallet. The FlipsideKick™ (commonly called the 'Kick' for short) first appeared as an accessory for the Flipside 2X wallet back in 2011, and gained a lot of popularity and praise from customers for being able to securely hold more cards. Since then, we have released the new FlipsideKick™ (pictured above) which is only compatible with the 3X wallet and its 4 arm attachment system.
The FlipsideKick™ carries 3 additional credit sized cards, or 5 to 6 business cards in a more protective, crush resistant shell. Unlike the all purpose clip, the Kick keeps your business cards cleaner and more professional by not allowing the corners to get bent or crinkled. If you are holding additional regular cards, the Kick is perfect for those gift or membership cards that you want to carry on you, just in case you need them. Just like the all purpose clip, any RFID enabled cards stored in the FlipsideKick™ are able to be scanned easily by holding it up to an RFID reader–an ideal feature for RFID work entry cards and metro cards. The FlipsideKick™ is available here on our website for $9.95.
FLIPSIDE® STOW™ ATTACHMENT
COMPATIBLE WITH: Flipside® 3X Wallet only
COST: $11.95
Born out of the feedback from customers and their need to carry coins, The Flipside® Stow™ (commonly called the 'Stow') is a crush resistant shell which holds coins and keys. The Stow™ features a sliding drawer mechanism which is unlocked by pushing down a button on the back and sliding it forward to access its contents. The Stow can holds a moderate amount of change (ex. 12 U.S. quarters) or up to 4 regular sized keys. A 'key divider' is placed into the middle of the Stow to allow keys to stay organized and prevent them from shifting around while carrying your wallet in your pocket.
Each Flipside® Stow™ also includes a small detachable lanyard which can be looped around the two slits in the front, and is ideal for carrying key fobs around with your wallet. The detachable part allows you to quickly and easily remove your key fob to start your car, or hand your key to a valet driver while keeping all your other keys inside the Stow™. It is a perfect attachment for those that want to consolidate their keys and wallet together, or for those that absolutely need to carry coins. The Flipside® Stow™ is available here on our website for $11.95.
Leave a comment
Comments will be approved before showing up.