Introducing the All New FlipsideKick Attachment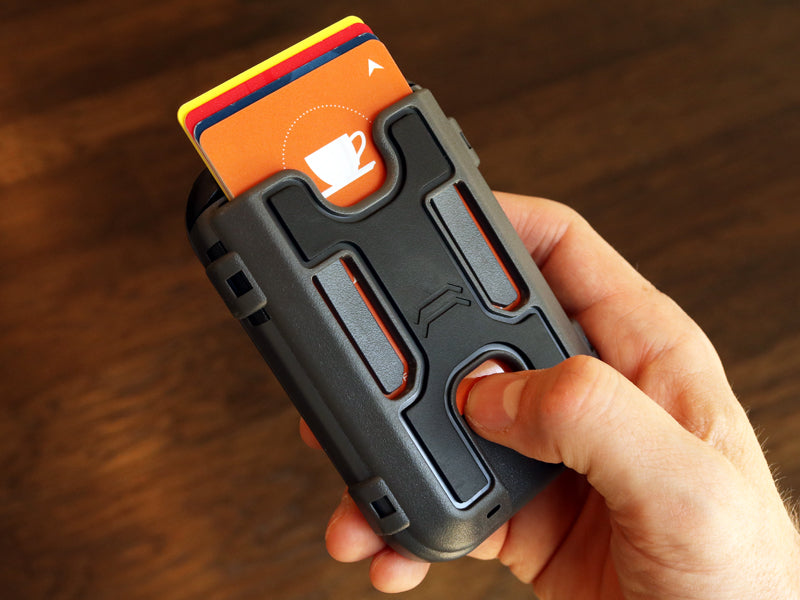 We are thrilled to introduce the all NEW FlipsideKick® attachment--the one attachment to rule them all! The new attachment combines the abilities of our previous FlipsideKick and Flipside Stow attachments into one, offering the user many different options for their every day carry.
The new FlipsideKick® is constructed from high strength polycarbonate plastic and now features a molded rubber face for some moderate grip in hand or in pocket without attracting lint. A new oversized thumb notch allows cards to be pushed out easier than ever, and an included detachable mini lanyard is perfect for carrying a few keys or similar items.
The new Kick' also includes a new optional drawer insert that you can slide into the attachment just like a card, and can hold keys and coins.
The all new FlipsideKick can hold:
-Holds 4 regular flat cards
-Holds 8 business cards
-Holds 1 Tile® Slim bluetooth tracker and 1 card
-Holds 3 or 4 keys (with drawer inserted)
-Holds 6 U.S. Quarters (with drawer inserted)
-Holds 6 €1 coins or 5 €2 coins (with drawer inserted)
The all new FlipsideKick is available now for $14.95, and comes in 4 of the most popular colors: Stealth Black, Mech Grey, Flare Orange, and Trooper Green. You can choose to match your Flipside Wallet color, or mix and match if you desire.
-Team Flipside
2 Responses
Leave a comment
Comments will be approved before showing up.