TALES FROM THE FLIPSIDE: REAL STORIES FROM REAL FLIPSIDE CUSTOMERS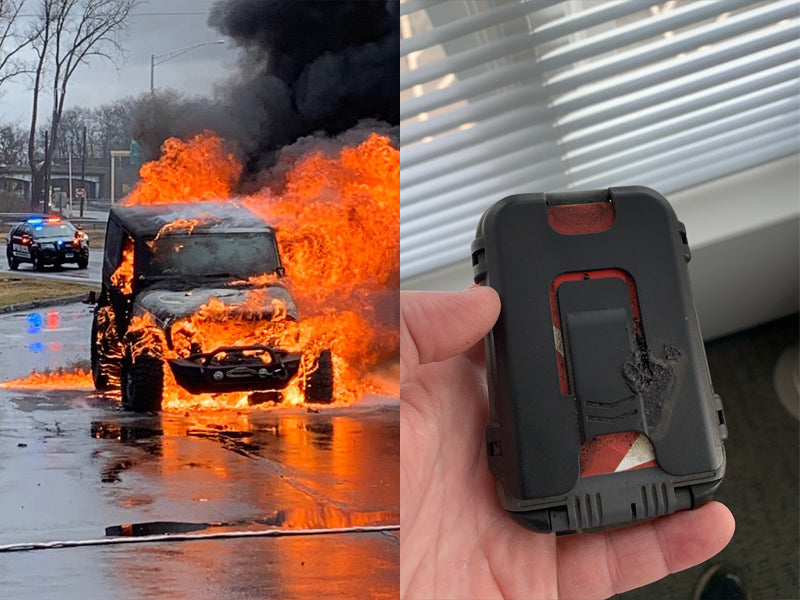 In designing some of the world's best RFID blocking mens wallets, we have gathered quite a following of loyal and enthusiastic customers and fans. Each and every day, we get a few emails from customers who want to share the feedback about our great products or share a story about their experience with Flipside Wallets.
Let us be clear that we never, ever get tired of reading these wonderful customer emails. While we usually get flooded with many emails each day, we still read each and every one of them. It not only puts a smile on our faces, but greatly motivates us to keep improving our products, and gives us a rich satisfaction that we were able to improve at least a small element of our customers lives with our designs. 
Sometimes, however, we get emails that absolutely blow our minds. These are real stories from customers about their Flipside wallets that you really must see to believe.
CUSTOMER STORY #1: One Hot Wallet
We received an email earlier this year from a Flipside customer that made our jaw drops right away; his beloved Jeep had caught on fire on his way to work due to a malfunction. After the fire department rushed to the scene and put it out, he realized his Flipside Wallet was in the car, and had not only protected his cards from literally melting away, but the wallet was still functioning as normal. Our wallets design as well as our engineered plastics' inherent flame-retardent capabilities helped to protect his personal items. 
"So, recently my Jeep caught fire on the way to work.... the entire thing burned to the ground, except, yep, my Flipside wallet!

I lost a lot of "stuff" but could care less, but reaching for my wallet and realizing it was in my brief case on the passenger seat was a panic moment. After the fire was out, the fire chief and crew let me approach the vehicle, I knew the general area where my briefcase should be, I pulled back layers of melted nylon (Mountainsmith Work series Briefcase) reached in and there it was!!
Can't say enough good stuff about Flipside wallets, every firefighter there was in shock and wanted to know where I got the wallet. Anyway, attached are a few photos, I'm off to buy a new Flipside 4.... and a new vehicle! : )"
CUSTOMER STORY #2: Flipside Vs. Dog
This one had us laughing pretty hard. We all know how relentless and aggressive dogs can be when chewing a bone, or ripping your slippers apart. But it appears this customers' dog had finally met his match.
Not only could the clamoring canine NOT finish the old Bolt Blue Flipside Wallet off, but all contents inside the wallet, including drivers license, ID, and credit cards, were unscathed:
"LOL! It still works! It just looks horrible! Your product is amazing. I've continued using it for a few years now and it is still going strong. Even after what our dog did. He has destroyed many other things but can't finish this wallet off!"
-Shelley A.
CUSTOMER STORY #3: Your Wallet May Have Saved My Life
This is one of those miraculous stories you might hear on the news about someone surviving something deadly by way of the most seemingly mundane circumstances, or OBJECTS. 
An active duty Sargent in the US Military was accidentally struck in the leg by the discharge of a 9mm handgun. After being rushed to the hospital and losing blood, doctors were able to stabilize his condition and said that the object he was carrying in his pocket--a Flipside 3X Wallet--actually helped to slightly deflect the bullets trajectory AWAY from his femoral artery, which would have likely been fatal:
"Good afternoon, i just wanted to thank you for making such a great product. I recently suffered a gunshot and the doctor told me that if the bullet had not been slowed and deflected slightly by my wallet it could have hit my femur or potentially my artery. So your product may have just saved my life. I will be ordering a new wallet from you guys. Just thought i would share that story with you. Have a great day."
-Sgt. Z.G.
North Carolina
As we said, we never get tired of hearing customer stories, and would love to hear more from you!
If you have an amazing Flipside Wallet story, drop us a line at info@flipsidewallet.com. 
-Team Flipside
Leave a comment
Comments will be approved before showing up.